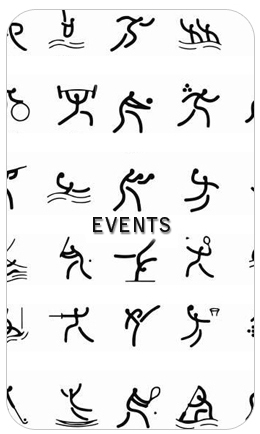 Sports

Playing sports is one of the favorite activities of most of us. Apart from being a fun activity, sports offer several health benefits, thus contributing to one's physical and mental well-being. Sports play a vital role in the enhancement of one's personality by being a source of exercise and entertainment. Not sure how many structured after-school activities kids should participate in? Too much structured activity is not good for young children, but a little planning for playtime does have its place. What better way to keep your kids out of the house and away from television and computer games than enrolling them in sports? A brief of the most popular sports played are given below:
Tennis is a sport usually played between two players (singles) or between two teams of two players each (doubles). Each player uses a racket that is strung to strike a hollow rubber ball covered with felt past a net into the opponent's court.
Table Tennis is a sport in which two or four players hit a lightweight, hollow ball back and forth with rackets. The game takes place on a hard table divided by a net. Except for the initial serve, players must allow a ball played toward them only one bounce on their side of the table and must return it so that it bounces on the opposite side. Points are scored when a player fails to return the ball within the rules. Play is fast and demands quick reactions. A skilled player can impart several varieties of spin to the ball, altering its trajectory and limiting an opponent's options to great advantage.
Basketball is a team sport in which two teams of 5 players try to score points against one another by placing a ball through a 10 foot (3.048 m) high hoop (the goal) under organized rules. A regulation NBA basketball court is 94' long by 50' wide. Basketball is one of the most popular and widely viewed sports in the world. Points are scored by throwing (shooting) the ball through the basket from above. The team with more points at the end of the game wins, but additional time (overtime) may be issued when the scores of both teams are the same. The ball can be advanced on the court by bouncing it (dribbling) or passing it between teammates.
Badminton is a racquet sport played by either two opposing players (singles) or two opposing pairs (doubles), who take positions on opposite halves of a rectangular court that is divided by a net. Players score points by striking a shuttlecock with their racquet so that it passes over the net and lands in their opponents' half of the court. A rally ends once the shuttlecock has struck the ground, and each side may only strike the shuttlecock once before it passes over the net.
The aquatic sport of Swimming is based on the human act ofswimming, that is, locomotion in water by self propulsion, usually with the goal to complete a given distance in the smallest time. There are also swimming competitions based on endurance or precedence rather than speed, such as crossing the English Channel or some other stretch of open water. As a sport, swimming is usually distinguished from other aquatic sports (such as diving, synchronized swimming and water polo) that involve the act of swimming but where the goal is neither speed nor endurance.
Association football, more commonly known as Football or soccer, is a team sport played between two teams of eleven players using a spherical ball. The game is played on a rectangular grass or artificial turf field, with a goal in the centre of each of the short ends. The object of the game is to score by driving the ball into the opposing goal. In general play, the goalkeepers are the only players allowed to use their hands or arms to propel the ball; the rest of the team usually use their feet to kick the ball into position, occasionally using their torso or head to intercept a ball in midair. The team that scores the most goals by the end of the match wins.
Chess is a board game played between two players. It is played on a chessboard, which is a square-checkered board with 64 squares arranged in an eight-by-eight grid. At the start, each player controls sixteen pieces: one king, one queen, two rooks, two knights, two bishops, and eight pawns. The object of the game is to checkmate the opponent's king, whereby the king is under immediate attack (in "check") and there is no way to remove or defend it from attack on the next move.
The Marathon is a long-distance foot race with an official distance of 42.195 kilometres (26 miles and 385 yards), that is usually run as a road race.


Copyrights©Reserved 2010. Thane Sports.